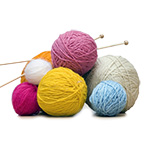 Knitting with Simona
Spoil yourself with the authentic Simona's knitwear.
Staying true to these roots, all our products are 100% handmade by Simona, who simply loves to knit.
Hand-knitting is a slow process compared to machine knitting, so we usually need few days to complete one knitted or crocheted piece. We always do our best to minimize the wait as much as possible. However, completion dates are based on order volume and will likely fluctuate depending on the number of orders coming in.
We believe handmade crafts have a touch of magic in them as they are rooted in tradition, and no two are ever truly identical. Simona's Handicraft ensures reliable timeless pieces heart-made by high quality yarns, unique statement designs and the most fashionable colors.
Knitting with passion, care and respect for you and our planet, we ensure you can get the best possible outcome from out knitwear!